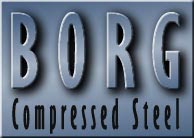 Borg Compressed Steel
Recovery and Recycling

Headquarters:
1032 N Lewis
Tulsa, OK
918-555-BORG
BORG Steel has been operating in Tulsa for over 70 years. Their business consists of recycling anything made of metal, and selling the reprocessed metal back to industry.
Even though they are located in the combat zone, the plant operates unhampered by intruders. (Partially because of the Sampson Borg they have working there). They ship out the reprocessed material via truck or rail, however their customer orders it.
Part of their holdings consist of an old extension of the MKO rail line which they now maintain. This helps keep operating costs to a minimum
In addition to recycling auto bodies, aluminum cans, gun metal & scrap metal, BORG Steel now recycles cyber limbs!
Some of their clients include Brigham Arms for scrap firearms, and TWP for excess and defective pipeline material