Medical Services Directory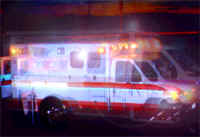 All Saints Hospital Systems (ASHS)
Formed as a merger between St. Francis, St. John, Hillcrest, Doctors', and Tulsa Regional Hospitals. With their combined knowledge and equipment they are better prepared to serve the needs of the Tulsa community. Minor emergency and general Medical Offices are located throughout the Tulsa community. Headquarters for All Saints is located in the Downtown Corporate Zone.
Mobile Emergency Services Inc. (MESInc.)
Medical emergency firm based out of Eastern European, established service in the area in 2019. They compete by offering cut rate prices and quality service.*
Trauma Team Inc.
Trauma Team In cooperation with the All Saints Hospital System, Trauma Team has set up a regional office in Tulsa. In 2015 Trauma Team became the official transport for the ASHS. Response time is guaranteed.
Cyber-to-Go
Located in all major shopping malls, Cyber-to-go allows for walk in service for most out patient Cyberware operations and repair.
Exit Wounds
Minor emergency clinic located at 3rd and Utica, home of the "no questions asked" bullet removal service.
* in direct and often bloody competition with Trauma Team.