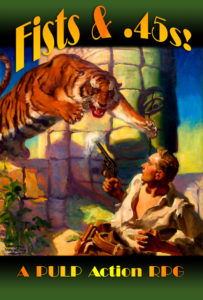 Welcome to the Fists & .45s! Website. I am glad you have taken time out of your day to explore the world of pulp action role playing in the Dirty 30s!
This particular journey started in 2004 and was a offshoot of the Dirty 30s! resource project. I've always loved the pulps, albeit unaware of what they were called early on in my journey. My inspirations have been authors Edgar Rice Burroughs & Attilio Gatti, movies like the Raiders of the Lost Ark, the Rocketeer, the Mummy, and a "super" hero from radio, comics and movie serials called the Green Hornet. These sources combined were the inspiration needed to write a pulp action role playing game.  Unfortunately real life issues got in the way and I couldn't dedicate the time I wanted into the project, so it just sat there. In the grand scheme of things it didn't matter much, the Dirty 30s! project had become well received, as a result Fists & 45s! was relegated to the dustbin of my hard drive.
Fast forward to late 2016; while digging through some old files I ran across the half-finished manuscript for Fists & .45!.
What you are looking at now is the culmination of 4 months of re-writing, head-scratching, writing, eye-rolling, editing, deleting, and re-editing a 12 year old manuscript.